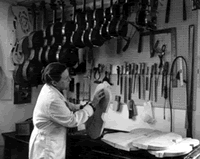 Dr. Carleen M. Hutchins
Founder and Executive Director of
The New Violin Family Association
The New Violin Family Association is an international group of musicians, scientists, instrument makers and music lovers, people who want to share in the challenging possibilities opened for the musical world by a consort of eight violins of a new type, from treble to concert bass. The design of this Octet of violins has been made possible for the first time in history by the combination of 20th century acoustical science and the skills and knowledge of expert modern violin-makers.
The new family of eight violins offers the musical world not only harmonies never before heard, but greater resonances and volume than traditional instruments, with substantially expanded frequency ranges. These qualities are being called for by musicians and composers to meet the challenges of electronic music as well as the acoustical demands of today's larger auditoriums, for which the great violins of the past were not designed.
This organization is an outgrowth of the Catgut Acoustical Society, which for more than thirty years has been the international leader in the application of acoustical science to the making of string instruments of the highest quality.
You too can have a share in making musical history by becoming a member of the Hutchins Consort. Click here to join. You may also send an annual contribution to our office in Encinitas, California:
Hutchins Consort
701 3rd Street,
Encinitas, CA. 92024
Phone: 760-(760) 632-0554
The Hutchins Consort accepts Master Card, Visa, American Express, Checks or Money Orders (in US $ please)